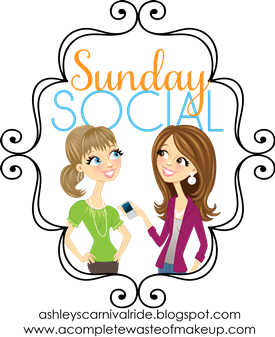 This week's topic is all about fashion. This was a tricky post for me to write because to be honest, I really don't care that much about fashion. I think that fashion is truly an art form, and that it can be a great way to express yourself. Unfortunately, I just lack fashion sense. I'm all about comfort. I work as a preschool teacher, and we have uniforms at work. When I get home, I like to lounge around in comfy clothes. My weekends usually consist of outdoor activities such as camping or fishing. So you see, fashion doesn't play a huge part in my lifestyle. I do like to look nice if we go out to a nice restaurant or party, but I just have a few outfits that I wear all the time. Horrible, I know.
What is your favorite store?
Ross, TJ Maxx, or Old Navy.

If you could afford anything and everything, which designer brand would you covet?
Geez. I have no idea. I am extremely ignorant when it comes to fancy, shmancy fashion. I don't pay attention to things I know I can't afford.

Must have closet staple?
Jeans and a T-shirt. It's boring, I know, but comfortable and casual is just the way I roll. I once had a friend joke that my style is like a cartoon character because I wear almost the same thing everyday. Haha… Sad but true. Fashionista I am not.
Favorite kind of shoes? (brand or type)
I absolutely love my Teva flip flops. They are so comfortable! The bottom of the shoes conform to your feet and the straps don't hurt or irritate my feet at all. I pretty much live in these all summer.
I don't own a pair of
TOMS
, but I really want one. They are really cute, and I love that they donate a pair of shoes to a child in need for every pair you buy.
Best clothing deal you've ever gotten? (sale or amazing find)
When I started student teaching in college, I pretty much needed an entire wardrobe. Jeans and T-shirts are not professional attire, and all of my previous jobs provided uniforms. I really lucked out. I just happened to be shopping at JC Penny during their huge clearance sale, I got an entire wardrobe of slacks, capris, shirts, skirts, and dresses for about $200. Seriously… I got brand new clothes for two to three dollars an item. The great part was that none of them looked too "teachery". Crazy. I have yet to find a sale that great again.

Style you'd love to try?
I would love to learn how to accessorize without feeling silly or spending a fortune.
Well, that's my take on fashion. Thank God for Pinterest and the blog world, or I would really have a hard time when I need to dress up.