This is my first time linking up with another blog, and I am so excited about it. It's called Sunday Social, and it's run by Neely at
A Complete Waste of Makeup
. It's easy. She asks some questions, those of us involved answer them and link up. It sounds really fun and I'm excited to read some answers from other bloggers who are participating.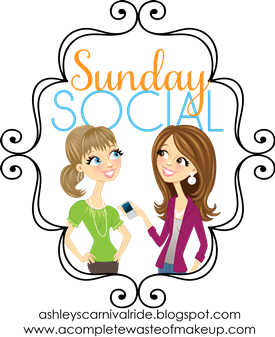 This week the topic is all about music. It's going to be tough to narrow down my answers because I love music so, so much. Well… here goes nothin.
1. What is your all time favorite song?
Geez, this is a tough one. I have to pick just one? I can't pick just one, so you'll just have to deal with me listing a few.
Soul to Squeeze – Red Hot Chili Peppers
I Won't Back Down – Tom Petty
Top of the World – Dixie Chicks
The Cave – Mumford and Sons
You're Not You – The Good Life
Add it Up – Violent Femmes
One Friend – Dan Seals – This was our wedding song, so I will love it forever.
What is your favorite singer/band?
Red Hot Chili Peppers, Sublime, Nirvana, Dixie Chicks, Modest Mouse, Violent Femmes, Tom Petty, The Beatles, Bright Eyes, Grateful Dead, Alkaline Trio
What is your theme song/song that best describes your life?
The Story – Brandi Carlile
This video is so sad. It makes me cry. Don't worry, my life is not sad like in the video.
Godspeed (Sweet Dreams) – Dixie Chicks
This song seems especially appropriate now that I'm a new mom. :)
What songs put you in a good mood?
I'm Sexy and I Know It – LMFAO - That song is so funny
Can't Touch This – MC Hammer
Yeah – Usher – Mostly because of Lil John
What is your favorite road trip music?
I always bring my IPod. But Bloodhound Gang's One Fierce Beer Coaster always gets played at least once.
What song are you most embarrassed to admit that you love?
Ice Ice Baby – Vanilla Ice
Hey that was pretty fun. Thanks Neely.